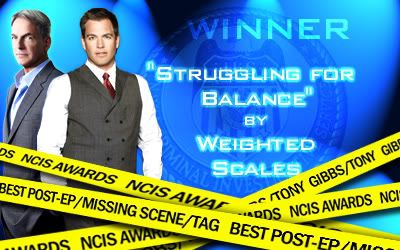 Thanks to everyone who voted for our "Frame-Up" tag as the best post-ep/missing scene for the
ncis_awards
!!!
Our Boys also won a Hinky Award over at the NFA Board :D
We faced some
very
stiff competition, and I was just happy to be nominated in either forum, but wasn't expecting to actually win.
Thanks again to our fabulous readers and fans, and to
piwrit_queen
, who continues to make this series a joy to co-write.
--
onlyonechoice
/tanya
Current Mood:

ecstatic
onlyonechoice
here :)
Given things that Our Boys have said to one another and the fact that Season 7 hasn't begun to reveal its beginning secrets just yet, Rudi and I are waiting out the first 2-3 episodes of the season before wrapping up Season 6 with
weighted_scales
to make sure that:
a) the characters stay true to canon
and
to each other, and
b) to make sure we don't have to retcon too much in case canon throws us a curve ball.
Thanks so much to our readers, whose feedback has been cherished and re-read often. We may not comment to it, but we appreciate it so very much. We hope to keep giving you interesting stories to read as long as we have canon to work with!
I've already made a note to set my DVR for 9/22.
Thanks again, readers!
--
onlyonechoice
/tanya
Current Mood:

calm